It's Election Day, and Americans are casting their ballots for president, members of Congress, and in state and local races. 
More than 100 million ballots were cast before Election Day, according to a survey of election officials by CNN, Edison Research, and Catalist.  
Voting in Michigan today is going "smoothly," the secretary of state's office says
From CNN's Annie Grayer
Voting in Michigan today is going "smoothly" so far, Communications and External Affairs Director for the Michigan Secretary of State Jake Rollow told reporters this morning.
Rollow shared that "about a dozen" of the state's 2,000 reserve poll workers had to be deployed this morning to help staff polling locations in Pontiac and Grand Rapids. Rollow did not specify whether this was because of the pandemic. These workers are meant to be deployed if a poll worker scheduled to work today didn't show up. 
With 3.1 of the 3.5 million absentee ballots requested already returned, Rollow said the state has an 89% return rate, which he said is lower than 2016. In 2016, Rollow reports the state had a 96% return rate as of Election Day. 
Rollow said "that's to be expected" given the fact that there are roughly three times as many absentee ballots this election than in 2016, and the mail has been slow.
91% of absentee ballots returned in Nebraska
From CNN's Katie Lobosco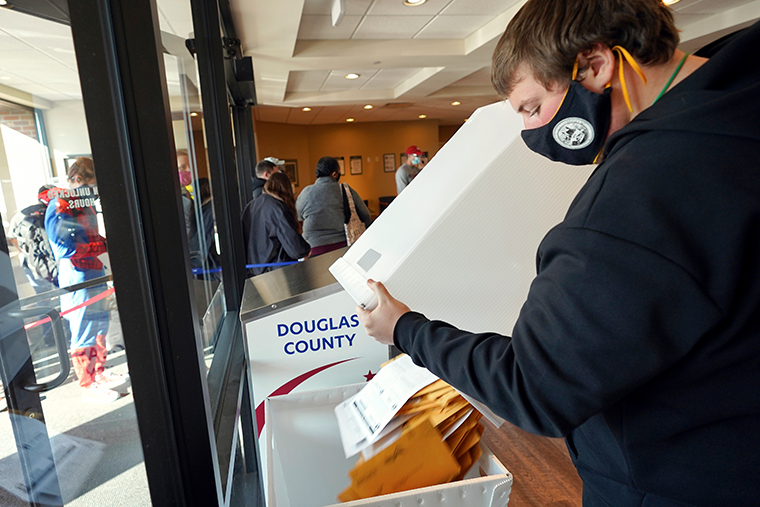 So far, 510,076 Nebraska absentee ballots have been returned, the Nebraska Secretary of State's office said Tuesday morning. That's a 91% return rate. 
There are currently 48,382 absentee ballots outstanding. More than 27,000 were received yesterday.
Absentee ballots must be returned via mail or a drop box before polls close today at 8 p.m. local time (that's 9 p.m. ET) to be counted.  
Absentee ballots are counted first and the results are expected to be posted shortly after the polls close.
Kayleigh McEnany says the Trump "campaign believes that tonight will be a landslide"
From CNN's Jason Hoffman
Kayleigh McEnany appeared on Fox News as a Trump 2020 campaign senior adviser, though she was also introduced as White House press secretary, and stuck a highly optimistic tone about the President's chances for reelection.
McEnany predicted President Trump will carry the battleground states of Nevada and Minnesota, states he is trailing Biden in the polls. She also predicted Trump will hold Pennsylvania, Wisconsin, and Michigan states that were crucial to his 2016 victory. 
McEnany echoed the President's criticisms of the Supreme Court decision allowing Pennsylvania to receive ballots up to three days after Election Day, saying she believes the court is "wrong." However, she also said that "this talk of litigation is nothing," because she believes in a landslide victory for Trump. 
McEnany said the Trump campaign hasn't engaged in the court case in Texas regarding curbside voting and any further litigation will be decided "on election day and beyond."
On Election Day, Trump says he has "a very solid chance of winning"
From CNN's Kevin Liptak
U.S. President Donald Trump greets guests on the South Lawn of the White House after arriving on Marine One in Washington, D.C., the U.S., on Tuesday, Nov. 3, 2020.  Yuri Gripas/Bloomberg/Getty Images
After nearly four years in office, President Trump offered a bleak assessment of the job he wants to be re-elected in an interview on election day.
"They'll go, 'Mr. President, tell me: who is the country that's most difficult to deal with? Is it Russia, is it China, is it North Korea?'"  Trump said during a morning phone-in to "Fox & Friends," his last appearance on a favorite television show before his fate is decided. "No, by far the most difficult country to deal with within the US. It's not even close."
About 45 minutes late for the interview, and his voice scratchy after a 17-rally sprint to the finish, Trump did not sound buoyant. He offered himself only a mildly optimistic prognosis for victory — "a very solid chance of winning" — and sounded less-than-enthusiastic about the idea of serving another four years in office.
"The inner workings of the US are very difficult," he said. "Unless you want to sit there and do nothing, or unless you want to do everything that they want, and we don't want to do that."
Throughout the campaign, Trump has struggled to articulate why he wants to serve another term. When pressed on his agenda for a second four-year stretch, he has offered only the broadest answers. Instead, he has focused on defeating Biden, hoping to avoid the humiliation of being a one-term president, and has basked in the adulation of his rallies.
With the campaigning now over, Trump seemed to look forward with some trepidation. He noted that his relationships with friends from before he was president had changed. They no longer call him "Don," insisting on using the more formal "Mr. President." 
"They react differently to me now than they used to," he observed. 
Trump called into the same program four years ago, saying then he viewed it as a good luck charm because he'd done the same thing on days of primary elections where he won. But four years later, Trump seemed to view the call-in as a chance to explain how the network's coverage had changed since he won.
"Somebody said, what's the biggest difference between this and four years ago? And I say, Fox. It's much different," he said, complaining the network that's boosted his relentless, often using conspiracy theories, airs too much coverage of his rivals.
Asked if he got emotional when his supporters chanted "we love you" at his final rally, Trump emphasized repeatedly he was only kidding and that he wasn't going to cry.
"You feel the love," he said. "And it's so incredible."
 Source: CNN (from 2020 election updates)